Published Books
Going Station to Station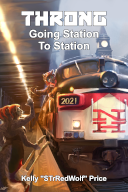 HARDCOVER: $25
PAPERBACK: $15
EBOOK: $10
on Kindle, Kobo, Smashwords, Apple Books, and more.
Inspired by the Station To Station Nomadic Journey.
Cover by Tom Coletti
When their bus breaks down, multifur classic rock band THRONG is stranded in Boston... or until one of their back-stage members calls up an old friend: one who has a train, a plan for a nomadic festival, and a need of a band. But will a secret of another back-stage member derail the tour? Join musicians Yukon, Hayden, Norse with back-stage members Killer, Lights, Stereo, Hauler, and Mussi as they join trainmasters Rails and Blacklight with reporter Mint on an railroading adventure!
Tees, Banners, Mugs and Merch